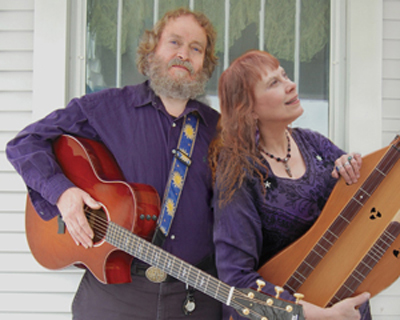 February Sky has had a remarkably lovely summer. All of our Upper Peninsula appearances were great! The audiences were listening and engaged, and people came to talk and ask questions after the concerts. Who says that people only want to hear songs that they already know? However, we are happy to see Autumn, with its cooler temperatures and colorful foliage, waiting in the wings. Speaking of which, we are resuming our virtual "house concerts" on Friday, September 23rd with a harvest concert with our friend and fine musician Lee Murdock, and we know it will be a good time!

We are looking forward to playing at this year's "slightly different" version of the Fox Valley Folk and Storytelling Festival. At the same time, we are saddened by the passing of Juel Ulven, a dear friend and the festival's founder and director for decades. We feel sure that he would want the festival to continue, and we will all participate in his memory.


February Sky lives in the town of Trout Lake in Michigan's Upper Peninsula, We are full time touring musicians, not sure yet if the pandemic is over, but we are live-streaming concerts, as well as playing live outdoors or in protected circumstances. Please check out our appearances for details.
"I've had the delight of watching two long time friends and musicians grow a duo. I've listened to Phil Cooper for years as part of a duo/trio/ensemble, with singing partner Margaret Nelson as the constant through all those years. Phil's darlin' Susan wrote wonderful songs, sang wacky and ribald songs she'd found elsewhere and became an ever more deft musician through those years. Now they're a duo - February Sky - and the combination of Phil's incredible repertoire of very traditional song and tune and Susan's singer-songwriter orientation and addition of her skill with other instruments have been blended into something very different than what either had done before. Same songs, or tunes from previous repertoires... but whole different flavor. Each time I see them, what they do gets tighter, deeper, more distinctive. 'Course it helps that both are thoughtful, generous people who like each other lots. --Joanne Laessig, Folknet, Cleveland, OH